Reviews
Our customer reviews say it all! From project planning to the finishing touches, our team provides the highest quality services for kitchen and bath remodels.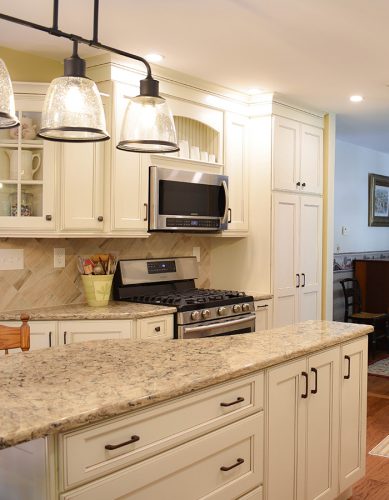 "They installed a new countertop, backsplash, sink and dishwasher for us about a year ago. Everything still looking and working great. I'm very happy, I loved working with Theresa, she's very kind and personable. Skip and his team did a fine job. When I'm ready to redo our bathroom I will definitely call. Thank you, I love my kitchen so much ❤️"
– Sarah Vannucci
"Thank you so much for putting together an expert design and creating a bathroom to call my own…you guys are the greatest."
– Merle Trimble
"We have just had our master bathroom renovated by SE Kitchens & Baths. The job that Skip and his staff did is exceptional. From design to finished project, everything was done professionally and with a high level of craftsmanship. We highly recommend SE Kitchens & Baths for any renovations."
– John Czachor
"We highly recommend Skip as he does quality work and does everything- "soup to nuts". Job completed in 12/18."
– William A.
"Skip is a seasoned professional who knows his business. We are thrilled with our new kitchen. I would hire him again and would highly recommend SE Kitchens & Baths."
– Alfred R.
"We had our kitchen remodeled and were very impressed with the time and effort Skip took to design the perfect kitchen for us. The prices were very affordable I would highly recommend SE Kitchens & Baths."
– Crystal Mattison
"Skip and Joe did a superb job doing a full teardown of our bath and replacement. They worked hard and we ended up with a bath that is like a picture in a magazine. Also many thanks to Theresa who came to our house to design it. They make a great team and we are so very happy. Everyone who visits are in awe…..Beautiful work SE Kitchens & Baths."
– Timothy Boyce