Custom Lighting Plans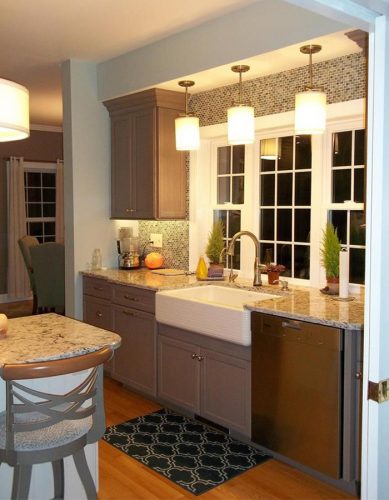 Lighting is constantly evolving as technology advances. They've become more efficient and available in many styles and designs – Contemporary, Traditional, Victorian, Old World, even Tropical styles are available.
There's more planning required for kitchens and baths. These rooms must be properly lit because of the activities that they entail – where cooking and even shaving can be dangerous in a poorly lit environment. SE Kitchens & Baths will work with you in creating and planning the perfect setting.
Types of Lighting
Pendant Lights, LED Lighting, Under Cabinet Lighting, Vent/Lights and Vanity Lights, Wall Sconces, Ceiling Lights and so much more for your kitchen and /or bath.
Under-cabinet lighting along with recessed lighting is the most important lighting in your kitchen or bath. Under-cabinet lighting provides functional task lighting for chopping veggies and other kitchen activities. Leave under-cabinet lighting can be left on by itself for a night light in the bathroom. There are tons of under-cabinet lighting systems available with

SE Kitchens & Baths

.
LED Lighting (Light Emitting Diodes) has evolved greatly over the years. The technology has been around since the 1980's and is 90% efficient. LED is a preferred lighting system in all our kitchen and bath designs. LED is more efficient, uses less energy, emits far less heat, and is cool to the touch. LED lighting can decrease your energy bill.
Endless Lighting Possibilities!
Wall Sconces were originally created to hold candles and torches along the walls, sconces remain a popular lighting choice and can provide ambient or task lighting to any space. Available in an enormous range of styles, sizes, and shapes, a wall sconce can complement a kitchen or bath with background illumination or flank a mirror or artwork.
Vent/Lights – The potential for mold is enhanced by the condensation of excess humidity–usually the result of poor shower area ventilation. A proper size fan can help prevent unsightly and potentially damaging mold.
The larger the CFM (Cubic Foot Per Minute) rating of the fan, the faster it will take care of any issues. Some fans are powerful enough to solve the problem at hand but are not frequently used because they are too loud. Sound levels are rated in Sones, where the lower the number the quieter the fan, typically 4 sones are louder than 1 sone.
Reveal your home or business in its very best light with custom lighting plan and installation from SE Kitchens & Baths. Serving the Saratoga Springs, Gansevoort, Malta, Queensbury, Lake George region since 1990. Call or contact us online today!